With a sleek and sharp-looking design based on the F-16 Fighting Falcon body, this series is one of the expanded line-up of military pilot watches in the successful Luminox-Lockheed Martin Collection.

The Luminox F-16 Fighting Falcon series was developed after repeated exchange of ideas and opinions with Lockheed Martin and the U.S. Air Force, and eventually designed with a sporty look based on the sharp-looking body of the fighter aircraft.
Maintaining the usual high-performance specifications and user-friendliness common in all Luminox watches, the stylish design allows for wide usage from outdoor to social scenes.
SPECifications
9104
Movement:
Quartz


Case material:
Stainless Steel
Glass:
Sapphire glassl,
anti-reflective coating
Case diameter:
44mm
Case thickness:
12mm
Water resistance:
200m/20atm
F-16 Fighting Falcon Line Up
9105
9109
9129 Chronograph

Chronograph series
9123>
9124
9125
---
F-16 FIGHTING FALCON

Developed during the Cold War to counter Soviet Union's new and powerful MIG fighter aircrafts at that time.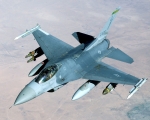 Designed to surpass the MIGs in all functional aspects, the F-16 has since been used by many NATO countries for many years even till today.
Lightweight with excellent maneuverability, it has been exported to 25 countries and holds the record of over 4,400 aircrafts built.


Recommended readings

Viper Force: 56th Fighter Wing--To Fly and Fight the F-16
The pilot of the F-16 Viper, which is the U.S. Air Force's front line fighter and attack aircraft, is at the pinnacle of combat aviation. Viper Force tells the story of what it takes to become an F-16 pilot and what it's like to fly and fight the Viper in combat.
A dual-purpose combat aircraft, its pilot must master two widely divergent disciplines: air-to-air flying against enemy fighters to maintain control of the air over the battle field and air-to-ground flying in support of ground forces, soldiers, and marines, in contact.
The crucible for creation of the Viper pilot is the air force's 56th Fighter Wing, the successor to World War II's 56th Fighter Group, the legendary Zemke's Wolpack, which also flew a fighter/attack aircraft, the P-47 Thunderbolt.
Viper Force also provides an up-close and personal look at the F-16 Viper squadron at war with information on its missions, command and control in the air, and the crucially important but often overlooked maintenance and ordnance ground crew.
---
Return from Luminox F-16 Fighting Falcon Series to Luminox Lockheed Martin Collection

Return to World Military Watches Command