MIL-Spec no. MIL-PRF-46374G
(superceding MIL-W-46374F)

There are many different types of military watches out there but which are the ones that most attract the attention of enthusiasts?
The ones that are military specification compliant. How do you know whether a watch is made according to one of the most stringent and demanding standards in the world?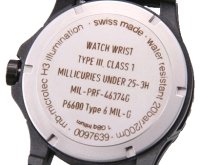 By looking at the watch case. You will see the specification number MIL-PRF-46374G on it.
That's the certified proof that the watch passed the stringent tests and requirement of the standard.
Absolute reliability is an absolute requirement for watches used in military operations and battlefields. The stringent standards exist to ensure that.
The specifications lay out very clearly the details of all conditions required for all products supplied for military use.
The term "military specification" is actually generic and therefore every country with military forces are likely to have its own version.
But among all the countries in the world, the system and specifications of the U.S. military are considered to be the most advanced, most stringent and most reputable. As such, the term "MIL-Spec" is now widely used to mean the standards set by the U.S. military.
The MIL-PRF-46374G marking certifies that the watch was made according to the detail conditions specified, underwent a series of stringent tests and evaluations according to the standards, and passed.
In other words, regardless of the manufacturer, brand, movement and parts used, a watch that satisfies all conditions and passed its stringent tests is recognized as having the required high quality deemed fit for use by the U.S. military.
Simple examples of watch design conditions required by the specifications
Dial
The dial background
shall be black;

The numbers and
graduations
shall be white.



Strap
The strap color shall be
black.
Case
Color shall be black
or silvery metallic.


Crown
All parts shall be
furnished so the case
and crown shall have
no sharp edges or
corners which could
cause skin cuts or
abrasions.
---
Classification of Military Watches
MIL-PRF-46374G classifies the watches into 3 Types and 4 Classes. Find out here.

Tests conducted on Military Watches
MIL-Spec tests are designed to break the watches. Only the fittest will survive.
---
Return from MIL-SPEC to World Military Watches Command