Designed with smooth and sleek lines inspired by the F-22 Raptor's elegant body, this Luminox timepiece is one of the two highest-end models in the successful Luminox-Lockheed Martin Collection. The other being the F-35 Lightning II.

The Luminox F-22 Raptor timepiece is built of solid blackened titanium which is both strong and light, similar to the material used for the stealth fighter aircraft's body.
The design of the crown is inspired by the engine of the stealth fighter with the Luminox logo carved on to it.
This dial is surrounded by the tachymeter and slide rule bezel for measuring speed and calculating distances, flight times and fuel consumption.
Along with the high-performance specifications common in all Luminox watches, this sleek timepiece will surely capture the keen attention of military watch fans.
SPECifications
F-22 Raptor
Movement:
Quartz


Case material:
Titanium Black, PVD
Glass:
Sapphire glassl,
anti-reflective coating
Case diameter:
44mm
Case thickness:
14mm
Water resistance:
200m/20atm
---

Super-maneuverable aircraft with stealth capability,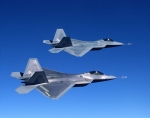 high versatility propelled by high thrust engines, super-cruise (cruising at supersonic speed) capability without using afterburners.
Christened "Raptor" to signify its status as ruler of the sky, thus showing the expectation and pride of the U.S. Air Force.


Recommended readings

Lockheed-Martin F-22 Raptor: An Illustrated History (Schiffer Military/Aviation History)
Called the Raptor, the F-22 will be the U.S. Air Forces premier fighter for the first decades of the 21st century. Like other expensive military programs, the F-22 endured continuous scrutiny throughout its development the aircraft that evolved was worth the wait.
The F-22 is definitely top gun it is more agile than current U.S. aircraft, has stealth capability, and is flexible in both air-to-air and air-to-ground attack missions. The Raptor provides a capability far beyond that of any other fighter aircraft.

Advanced Tactical Fighter to F-22 Raptor: Origins of the 21st Century Air Dominance Fighter
Excellent book written from engineer's point of view for the development of F-22. Besides providing with plenty of information about the schedule milestones, also describes the Air Force's ingenious directions to stipulate the requirements for next generation of air dominance fighter.
And most of all, points out the Lockheed's advantages in project management and mutual technologies are the keys to the winning of ATF contract.
---
Return to Lockheed Martin Collection

Return to World Military Watches Command