Commemorating the groundbreaking and record-setting SR-71 Blackbird, the legendary black strategic reconnaissance jet, the series is considered the crown jewel of Luminox's proprietary collaboration with Lockheed Martin.
The SR-71 Blackbird Series features a form design that evokes the look of the jet that's capable of flying at Mach 3.5 at altitude 20,000 meters.
From the case to the form lines, subtle delicate curves define the watch's identity that links it to the aesthetic form of the Blackbird.

The new 2010 version 9080 series adopted a modern and chic watch face design. It also features a see-through case back with the jet's sillouette printed on it, and showcasing the renowned Valjoux 7750 fine movement mechanism.
SPECifications
9088
Movement:
Valjoux 7750
Automatic Chronograph


Case material:
Stainless Steel, PVD
Glass:
Sapphire glassl,
anti-reflective coating
Case diameter:
44mm
Case thickness:
17mm
Water resistance:
100m/10atm
SR-71 BLACKBIRD LINE UP
9082
9052
9062
9072
---

Developed by Lockheed Martin's Skunk Works
team,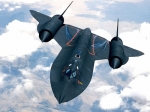 active as a reconnaissance aircraft from 1968 during the Cold War period.
Developed with capability to fly supersonic at high altitudes to avoid attacks from anti-air weapon systems, the SR-71 still holds the unbeaten flight airspeed record of Mach 3.5 (3,500km/h) at altitude 20,000m.


Recommended readings

SR-71 Revealed: The Inside Story
Put your pressure suit on and strap yourself in for a Mach 3 ride! Former SR-71 Wing Commander Rich Graham tells the amazing inside story of the Lockheed SR-71 Blackbird.
Graham provides a detailed look at the entire SR-71 story beginning with his application to be an SR pilot through commanding an entire wing.

Lockheed Blackbird Family: A-12, YF-12, D-21/M-21 & SR-71 Photo Scrapbook
Still the world's most popular and most exciting aircraft, the Lockheed family of A-12, YF-12, D-21/M-21, and SR-71 Blackbirds are to this day the highest-performance jet-powered airplanes ever flown.
They have set numerous world speed and altitude records for manned aircraft powered by air-breathing engines that theoretically may never be broken.
Although no longer operational, A-12s and SR-71s flew for nearly three decades at speeds in excess of Mach 3 and altitudes of up to 90,000 feet.
Includes many never-before-published photos coupled with new declassified information recently released by the CIA, including black-and-white and color photos of A-12 cockpits, early camera installations, and never-before-seen special camouflage schemes.
---
Return from SR-71 Blackbird Series to Luminox Lockheed Martin Collection

Return to World Military Watches Command